Atomic Learning
To log in to Atomic Learning, use your NetID and Blackboard password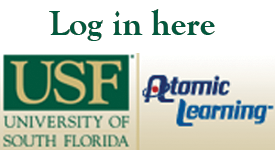 About Atomic Learing- Information about the company, services offered, and more.
How to Use Atomic Learning-Screencasts of Atomic Learning to help the first time user.
On Campus Training-Details on training dates, information shared, webcast of the training, and more.
Embedding Tutorials in Blackboard- For faculty, tutorial on how to take the Atomic Learning tutorials and place them in your blackboard courses.
More Coming Soon!